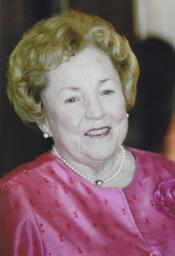 Leta LaNoe FENNER [scrapbook] was born on 30 Apr 1925 in Cordele, Jackson, Texas, United States. She died on 4 Apr 2011 in Richmond, Fort Bend, Texas, United States. She was buried in Rosenberg, Fort Bend, Texas, United States. Leta married Paul Clarence SCHERER Jr. on 28 Jul 1949 in Edna, Jackson, Texas, United States.

Leta was interred at the Davis-Greenlawn cemetery in Rosenberg, Fort Bend, Texas, United States.
OBITUARY:
Fort Bend Herald, April 5, 2011:

LaNoe Fenner Scherer, one of the first female members of the University of Texas Longhorn Band and a longtime Richmond resident known for her musical service to her local church and Rotary Club, died Monday, April 4, 2011, at her home. She was 85.
"I hope people remember me as a good mother, a good grandmother and a good Christian,'' she said in an interview in recent years.
Indeed, LaNoe was a devoted mother and grandmother and wife to her husband of 55 years, Paul C. Scherer, a longtime attorney, civic leader and former city attorney for Richmond who died in 2004 after a lengthy battle with cancer. He was 77.
LaNoe was born April 30, 1925, in the farming community of Cordele, Texas, near Victoria, the second of four children of Oscar Brehnerst and Leta Brigham Fenner. From an early age, her parents taught her the value of hard work and community service. Along the way, she developed a deep passion for music.
She began playing the piano as a young girl and continued her pursuit of music at the University of Texas, where she played trombone as one of the first women members of the famed Longhorn Band. She was an avid UT football fan throughout her life.
After graduating from the University of Texas in Austin, she defied tradition. Rather than return to her hometown, she moved to the Rosenberg-Richmond area to teach 4th grade and music. She attended First Methodist Church of Rosenberg, where she met her future husband, Paul Scherer.
They met during his final year of law school, also at the University of Texas, and they married on July 28, 1949 - six months after he was licensed to practice law.
LaNoe recalled playing the piano for Paul on their first date and said they were together from that point forward. Paul enjoyed telling the same story, but claimed she "trapped him" with her music.
LaNoe generously shared her talents with the community. As a volunteer, she played the organ and piano for 22 years at St. John's United Methodist Church in Richmond for church services, weddings and funerals. She played for weekly meetings of the Richmond Rotary Club for 27 years, and at various civic functions, nursing homes and hospitals throughout her life.
She was a longtime member of St. John's United Methodist Church, the Fort Bend Country Club, and held a lifetime membership in the UT Ex-Students' Association. Her interests included traveling with her family, reading and playing bridge.
Most of all, she dedicated her life to her family. She and Paul reared three children: Mike, Leta, and Jane, and doted on their four grandchildren, supporting them in all their academic, sporting, and other interests.
LaNoe was the rock behind Paul in his various civic ventures and his law practice as they grew deep roots in Fort Bend County for more than a half century. He maintained a law practice in the same office in Richmond for 54 years, specializing in probate law. He also owned and managed Peareson-Fort Bend Abstract Company and its successor, Fort Bend Title Company. He served for 21 years as a board member for Lamar Consolidated ISD, various banks and businesses, and Bar Associations.
LaNoe Scherer is survived by her three children: C. Michael Scherer, and his wife, Judy, of Richmond; Leta Nell Scherer, of Austin; Jane Flieller, and her husband, James, of Austin; four grandchildren: Justin Scherer and wife Emily, of Houston, Julie Scherer, of Katy, Sara Flieller and Jennifer Flieller; both of Austin; sister, Marjorie Nell Bolling, of Houston; brother, Donnie Fenner and wife, Fern, of Edna; sisters-in-law, Jean Sypert, of Houston and Edwina Fenner, of Edna; 10 nieces and nephews; and special family friend, Olive Talley, of Dallas.
She was preceded in death by her parents, O.B. Fenner, Sr. and Leta Brigham Fenner, her husband, Paul C. Scherer, and her brother, O.B. Fenner, Jr.
The family would also like to thank Bridget Pink for her long service to LaNoe.
Visitation is 5 pm to 8 pm Wednesday, April 6, at Garmany & Carden Funeral Chapel, 1201 Fourth St., Rosenberg, TX 77471. Services are set for 11 am Thursday, April 7, at St. John's United Methodist Church, 400 Jackson St, Richmond, TX 77469, after a private burial.
Memorials can be made to St. John's United Methodist Church, 400 Jackson St, Richmond, TX 77469, or to a charity of your choice.
Condolence messages may be written for the Scherer family at www.garmanycarden.com.
Services are under the direction of Garmany & Carden Funeral Directors, 1201 Fourth Street, Rosenberg, TX 77471 (281)342-4671.

BURIAL:
Find A Grave, database and images (https://www.findagrave.com : accessed 12 April 2018), memorial page for Leta LaNoe Fenner Scherer (30 Apr 1925–4 Apr 2011), Find A Grave Memorial no. 118210393, citing Davis-Greenlawn Cemetery, Rosenberg, Fort Bend County, Texas, USA ; Maintained by Carolyn Brinkmeyer (contributor 47376049) .